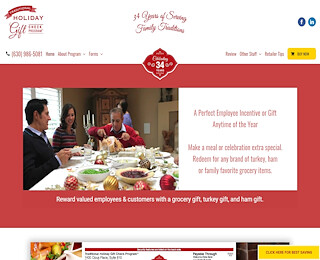 When you imagine a holiday setting, you probably picture a large meal with all of the fixings. Unfortunately, some people aren't able to afford a large meal for the holiday season. These are the same people who have a hard time putting food on the table all during the year, not just around the holidays.
A home cooked family meal for the holiday season can be the perfect gift to give someone who needs a helping hand. The best meal gift cards can be found at the Traditional Holiday Gift Check Program. We can help you purchase gift vouchers for turkeys to help those who need a holiday meal.
The spirit of giving during the holidays can allow you to connect with people on a personal level without being too pushy or judgmental. Helping others can ultimately help you find inner peace and sanctuary within yourself.
Perfect for Companies and Small Businesses
Small businesses or companies that want to show their appreciation to their employees for the holidays can give employee gift turkey vouchers as gifts. One of the best things about these vouchers is that you can give someone the gift of a meal without any doubts regarding what the money will be used to purchase. Many people who want to provide people aid during the holiday season are fearful of giving money in cash form, as they worry about what would be bought with it.
Employers like the services we offer at the Traditional Holiday Gift Check Program because it is an affordable holiday treat for employees. Plus, giving all of your company's employees a meal gift card is a fair move that is equal for all staff members. There is no greater gift than the treat of a home cooked meal that is fresh and tasty.
Who can Utilize the Benefits of Turkey Coupons?
Churches who want to give a turkey to its congregation members will appreciate the economic benefits of a gift certificate for turkeys. Church organizations can also use these types of certifications from the Traditional Holiday Gift Check Program to reach out to their local communities. Giving someone the simple gift of a home cooked meal can be the most valuable and important gift to bestow upon someone.
The small gestures in life can make a big difference and be the most appreciated. Community centers who want to help low income or homeless families during the holidays can use our program gift tickets to purchase meals.
The benefits of using these coupons for others are practically endless for everyone involved. Giving meal gifts to others will help you feel good about yourself, which helps the process to keep repeating.
Top of the Line Meal Products
You can count on all meals from the Traditional Holiday Gift Check Program to be of superior quality. We are a company that prides itself on the level of care and excellence of our services. You can contact our support staff at the Traditional Holiday Gift Check Program by calling 1-630-986-5081. We look forward to hearing from you!
Meal Gift Cards
Holiday Gift Check Program
+1 630-986-5081
1400 Opus Place
Downers Grove
IL
60515
View Larger Map
We welcome your comments!
Now is the time to purchase your holiday gift and give the gift of tradition!