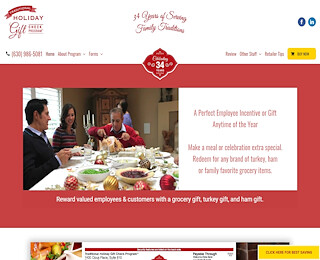 When you are looking for the ideal gift for your employees or clients, consider the option of a grocery gift certificate. You can buy grocery store gift certificates in any amount and give them as holiday gifts or for any type of reward. People love to receive vouchers they can use to purchase much-needed groceries from their favorite stores. You may also choose to buy a ham gift certificate that they can use to get a holiday ham for their family. When you want to buy grocery store gift certificates, choose Traditional Holiday Gift Check Program as the leading provider.
How Do Grocery Gift Vouchers Work?
Gift cards for groceries are easy to give and simple to use. The recipient may utilize the grocery gift certificate to purchase food items from a large variety of stores. You can buy grocery gift cards online in the amounts that you prefer. We can include the printed name of your company on the grocery gift certificates, so recipients remember your business. You can choose the exact amount of the gift vouchers, and we will accept returns if you purchase too many. We are a premier provider of gift vouchers in the country.
How to Purchase a Grocery Gift Certificate
At Traditional Holiday Gift Check Program, we offer options that you can customize to meet your needs. We can create gift checks in any denomination you prefer, so you can easily tailor them to fit your budget. They are ideal to use for employee holiday gifts, thank you gifts for clients, incentive gifts, and much more. You can complete the purchase online, and recipients can view information on our website. You will find the program the easiest and best way to buy gifts for your employees. Best of all, people love to receive a grocery gift certificate and will remember you and your company.
Advantages of Grocery Gift Certificates
When you give grocery gift certificates, you know that the recipients have something they will enjoy using. Everyone needs groceries, and you can use the gift checks for whatever you desire, including holiday hams and turkeys. A gift check is a perfect option for everyone, and they are suitable for both men and women. Gift checks are easy to redeem, so the people you give them to will have no trouble using them. They are the best gifts to use for charity programs, customer and employee appreciation, and promotional incentives.
About Traditional Holiday Gift Check Program
Traditional Holiday Gift Check Program is a leading provider of grocery gift certificates. We have been providing high-quality services to our customers for 32 years and counting. People trust us to offer the best and most flexible gift certificates on the market. We are happy to help you choose the gift check options that will meet your needs and budget. View many testimonials from our satisfied customers on our website. Our services are second to none. Visit us online to order gift certificates. Contact Traditional Holiday Gift Check Program at (630) 986-5081.
Grocery Gift Certificate
Holiday Gift Check Program
+1 630-986-5081
1400 Opus Place
Downers Grove
IL
60515
View Larger Map
We welcome your comments!
Now is the time to purchase your holiday gift and give the gift of tradition!